Follow these 2 steps, #1: pick a subscription option, and #2 follow the simple instructions to complete your registration. PayPal now accepts all major credit cards & PayPal accounts for membership! When you sign up we do not see your sensitive personal information. It is a priority for us to make your experience as a member of this website a safe one, and an enjoyable one! Your privacy is our priority! (Available worldwide) SCROLL DOWN FOR A SUMMARY OF THE FEATURES WITH THIS WEBSITE! Payments are reoccurring, just use the unsubscribe button if you wish to stop payments or change to another payment option.
ATTENTION: If you are a returning member, and you are picking a new subscription package, LOG IN TO YOUR EXISTING ACCOUNT FIRST, and pick the subscription of your choice afterwards so the payment is attached to your existing account or you'll have to create a new one. If you run in to any problems just email Bruce with the email located below.
All membership options unlock full access to all Blitz Team content!
Bronze (5.99 for 1 month):
Silver (9.99 for 2 months):
Gold (24.99 for 6 months):
Platinum (39.99 for a year):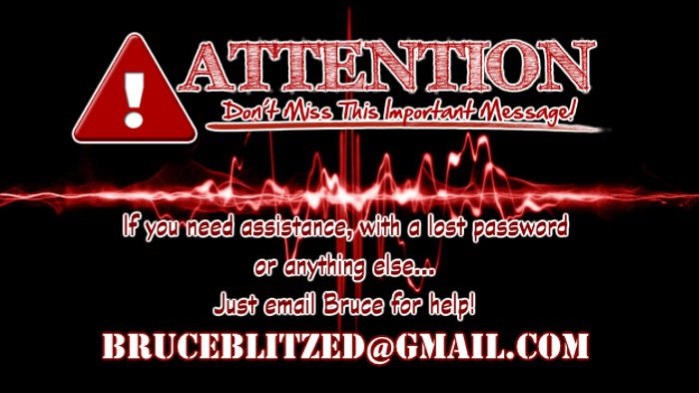 Cancel your subscription at any time:
ATTENTION! Our gaming streams have become the new main event of our broadcasts! You get characters, skits, comedy, sports talk, entertainment talk, and video game competition!
Blitz Team Content is more diversified than ever! We do our absolute BEST to keep you entertained & informed!
For almost 14 years, Bruce Blitz & the Blitz Team has led the charge providing our supporters with thought provoking content that challenges the mainstream narratives that irritate most of us.
We are dedicated at keeping you up to date!
Why purchase access to our content? We offer you unique & diverse perspectives on so many different topics. We are not the mainstream media. This is a unique platform built with the help of our supporters, for our supporters. The Blitz Team is a community that features extraordinary individuals from many different backgrounds & walks of life. The camaraderie on our website is infectious. For the cost of a magazine subscription, to most magazines, you can unlock access to all the hard work we've put in to this content for over 13 years.
On the Blitz Sports Network we feature coverage on the following:
- The NFL
- The NBA
- MMA
- Boxing
- College football
- College basketball
- Movies
- Video games
- Pro wrestling
- TV shows
- Anime
- Current events
- Other sports when a big news event happens
Make sure to check out Bruce Blitz's library of Top 10 videos!
- Thought provoking
- Historical
- Well researched
- Well presented
- Topics on many different genres
Bruce Blitz does on screen film analysis of top level players in the NBA, NFL and fighters in Boxing or MMA!
Also on the website you get:
- UFC PPV reviews
- UFC on ESPN reviews (2019)
- UFC Fight Night reviews
- Boxing PPV reviews
Here is the list of movies Bruce has reviewed on the website so far, and the list continues to grow!
MCU movie reviews:
The Incredible Hulk
Iron Man
Iron Man 2
Thor
Captain America: The First Avenger
The Avengers
Iron Man 3
Thor: The Dark World
Captain America: Winter Soldier
Guardians Of The Galaxy
Avengers - Age Of Ultron
Ant-Man
Captain America: Civil War
Doctor Strange
Guardians of the Galaxy - Volume 2
Spider-Man: Homecoming
Thor: Ragnarok
Black Panther
Avengers: Infinity War
Ant-Man and The Wasp
Captain Marvel
Avengers: Endgame
Spider-Man: Far From Home
DCEU movie reviews:
Batman vs Superman: Dawn of Justice
Suicide Squad
Wonder Woman
Justice League
Aquaman
Shazam!
OTHER movie reviews:
Logan
Pixels
Central Intelligence
Hands of Stone - The Story of Roberto Duran
Kickboxer: Vengeance
San Andreas
Creed
The Fate Of The Furious (Fast 8)
Jumanji: Welcome to the Jungle
Rampage
Ready Player One!
Spider-Man: Into the Spider-Verse
Bumblebee
Alita: Battle Angel
Run The Race
Skyscraper
Dumbo
Hellboy
Pokémon Detective Pikachu
Aladdin
Dark Phoenix
Godzilla: King of the Monsters
Men in Black: International
Toy Story 4
Creed 2
The Lion King
Once Upon A Time In Hollywood
Fast & Furious Presents: Hobbs & Shaw
Bruce Blitz also does random topic videos when a wild news story breaks!
PLUS you have over 6,500 videos, archived on the website, that you can watch on demand.
There is always something to watch on the Blitz Sports Network, and we feature a library of videos that's competitive with almost anyone on the internet.
All videos are streamed/broadcast/archived in HD.
DON'T SIT ON THE SIDELINES THIS MONTH, THIS IS ANOTHER HUGE MONTH ON BLITZ SPORTS NETWORK!